"I play the guitar Dig woodburned for me all the time!
Everyone who sees it asks me about it!"
--Michael Franti
Musician & Social Activist
Welcome to the home page portal for Sacred Fire Arts Guitar Pyrography!
If you are looking for a uniquely personalized, custom woodburned guitar made just for you, or someone you love, then you are in the right place. Dig, the artist behind Sacred Fire Arts, has been woodburning guitars for years and has had the pleasure of creating one-of-a-kind custom works of art for the likes of such distinguished international musicians (and stellar humans!) as John Butler (JBT), Michael Franti, the band Dead and Company, Mama Kin, Ash Grunwald and Shawn James, to name a few.
Each guitar is a completely functional work of art and something that is sure to become an instant family heirloom that can be passed down through generations. Dig will work diligently with you to create the perfect design for YOU, something that speaks powerfully to you as well as your audience. In fact, the right design can enhance the magic of the music and deepen the cyclically reciprocal connections between musician, instrument and audience. Even if you only play for your own gratification, a woodburned guitar quickly becomes an extension of your music and can be an inspiration to play and create more.
Pricing:
Special package deal starts at $2400 and includes a Martin X-Series guitar, or other guitar of your choice (prices can vary).
OR
$1800 if you provide your own guitar.
Ukuleles start at $900.
Thank you for taking the time to visit. Please contact us with any questions you may have, or click HERE for FAQ.
And be sure to follow us on Facebook and Instagram etc. @sacredfirearts.
Phone: 928-386-5060
or Email: inspiration@sacredfirearts.com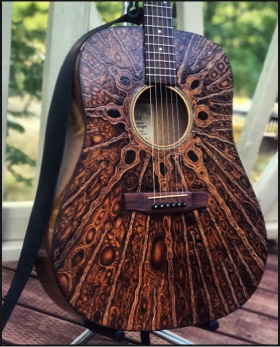 Shawn James, performing Through the Valley, on his Sacred Fire Arts custom woodburned guitar.